During your first few appointments we will see you every couple of weeks and get to know you, take a medical history, do a physical exam and arrange appropriate laboratory investigations and imaging.  Throughout the rest of your first and second trimester we will see you once monthly.  In your third trimester your appointments will be every two weeks.  When you are closer to your due date we will see you weekly.
Our group of doctors work closely together to be consistent and follow evidence based care as per the Perinatal B.C. Guidelines (http://www.perinatalservicesbc.ca).  You can arrange to see the same physician for your appointments, however it is likely you will meet some different members of our maternity group throughout your pregnancy including during your labour and birth.  We share the same philosophy of care and a passion for maternity care.
Richmond Hospital Site Ground Level
The prenatal clinic is located on the main floor of the hospital in The Child Health Centre at the north end of the building.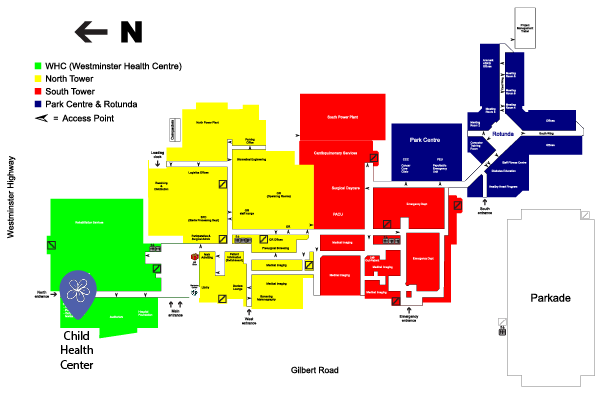 We encourage you to watch the first five minute video of the Birth Centre Virtual Tour to learn about some important resources and information for your pregnancy
The doctors run the prenatal clinics during the following times: 
Monday: 8:30 – 1200
Tuesday: 0830 – 1200 & 1300-1600
Wednesday: 1300 – 1600
Thursday: 1300 – 1600
Friday: 0830 – 1200
If you are a doctor requiring to refer a patient to our clinic, please fill in the following form and fax it to our clinic along with any available prenatal bloodwork or ultrasound reports:
© 2019 Noakes Maternity | Website by: Brent Sawkins